traditional Holder christmas breakfast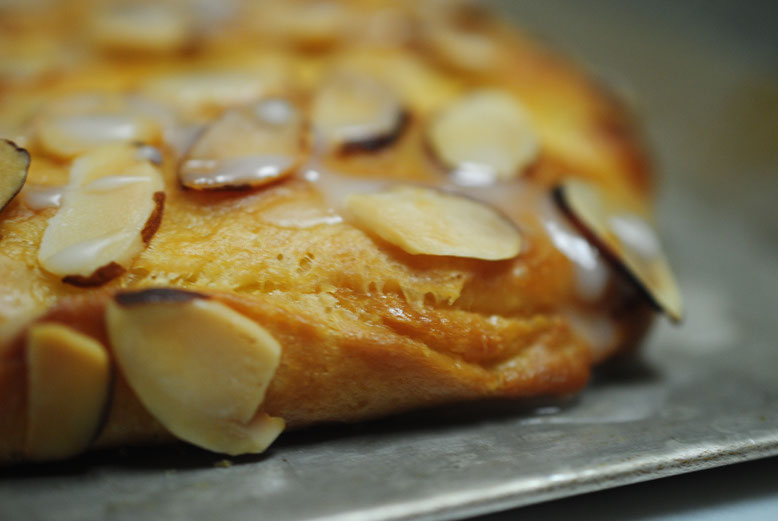 Years ago my mom acquired the recipe for what became a Christmas-only tradition in the Holder household, a braided cheese Danish recipe that makes six good-sized coffee cakes. We always gave several to neighbors and then savored every last crumb of ours Christmas day. This year Peter and I continued the tradition of eating one for Christmas breakfast, then shared the rest with his family over the next week or so.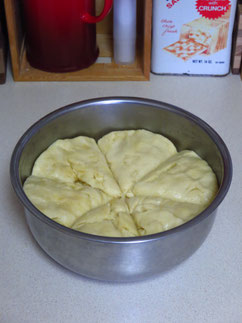 Dough that has risen overnight
2 T.       yeast
1/2 c.    warm water
6 T.       granulated sugar
1/2 lb.   butter or margarine (or 1                c. oil + 1 tsp. salt)
3           eggs
1 c.       sour cream
5 c.       bread flour (1/2 whole                    wheat, 1/2 white)
Mix yeast & water. Add sugar. Cream butter (or margarine or oil and salt) with eggs & sour cream. Add flour & yeast mixture, mixing well. Cover & refrigerate over-night. Next day divide into six equal parts.
---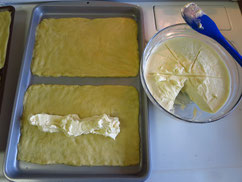 Spreading out the filling 
Spoon 1/6 of the filling mixture down the center of each dough rectangle.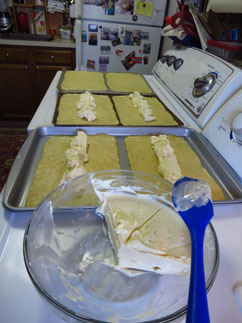 ---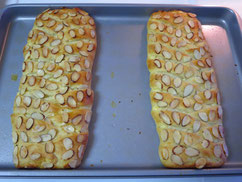 Baked and ready for glaze
Once the Danishes are baked and cool, top with a glaze of:
2/3 c.    powdered sugar, sifted
2 T.       milk
1/4 tsp. almond extract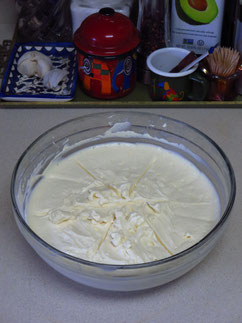 Delectable Filling
3 8-oz.  packages cream cheese
3           eggs
7 1/2 T. granulated sugar
3 tsp.    vanilla 
Mix with an electric mixer. Divide into six equal parts.
---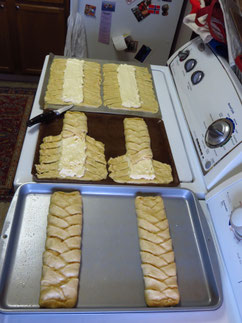 Braiding
Once you have evenly divided the filling among the six rectangles of dough, spread it almost up to the top and bottom edge of the dough, filling roughly 1/3 of the horizontal space. Then begin carefully cutting the dough with a sharp knife, starting at the cream cheese filling and slanting down toward the outer edge, roughly 8-10 strips per side (but the same # on one side as the other). Fold the strips of dough at an angle all the way across the filling, alternating from side to side and overlapping each other. Once braid is complete fold top edge of dough over to seal in filling. Repeat with bottom edge. 
---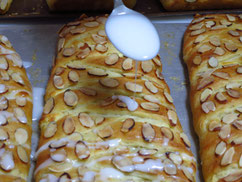 Drizzling on the almond glaze
Spreading out the dough
Grease three large cookie sheets. (Actually, I don't think I did or needed to, since this dough is so oily, but it might not hurt if you don't have non-stick trays.) Press dough into six equal rectangles, two on each cookie sheet and each as large as possible without touching another. Dough is greasy & will not stick to your hands, so don't add flour to your hands or the tray.
---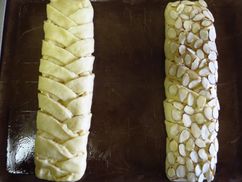 Topping with slivered almonds
Once you have finished the braiding, sprinkle or carefully place slivered almonds along the entire surface. Brush on egg white beaten with a little water. Cover with wax paper and let rise until doubled in bulk (may take several hours). Preheat oven to 350F and bake for 20-25 minutes.
---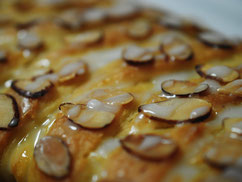 Glazed and delicious!
You can serve the next day, refrigerate, or freeze. May need an extra coat of icing after being thawed or reheated. Serve with coffee, bacon, and orange slices for a perfect experience.