Weddings, Graduations, Gifts, Invitations, Memories...
---
Illuminated calligraphy can be as stunning or simple as the client and I can make it.  These first nine pieces (all Bible verses) reside in homes, churches, and a cardiologist's office.  Extra points for correctly guessing which one belongs to an architect and his wife and which one belongs to a nursery.  Too bad I only have a detail shot of the one belonging to a cardiologist!
Renda Burkhart, for whom I've done work before, commissioned this Vision Statement for her office.  It's a daily reminder to her employees and to her clients of what Burkhart & Co. strives to do.
Below is the prayer our pastor always prays over the infants he baptizes.  This piece was commissioned for the client's granddaughter.
A gift for a friend's friend and a wedding invitation for a high school friend...
I re-covered a sketchbook and turned it into a guestbook for another cousin's wedding.  Here are four different looks at it.  The monogram "BHE" even includes Bevan's middle initial "S," which was entirely unintentional.  Elrike, incidentally, doesn't have a middle name.
Below, one of two letters of gratitude that I lettered for Spencer and Emily Hall's parents just before Spencer and Emily were married.  It was an intense project and one of my most wordy artistic endeavors to date.
The piece of calligraphy spanning the most years is one I began in 2003 or 2004 and finally finished fall of 2011.  It is loosely based on Psalm 136, with the repeating refrain "His love endures forever," though the bulk of the text pulls verses from throughout the Bible.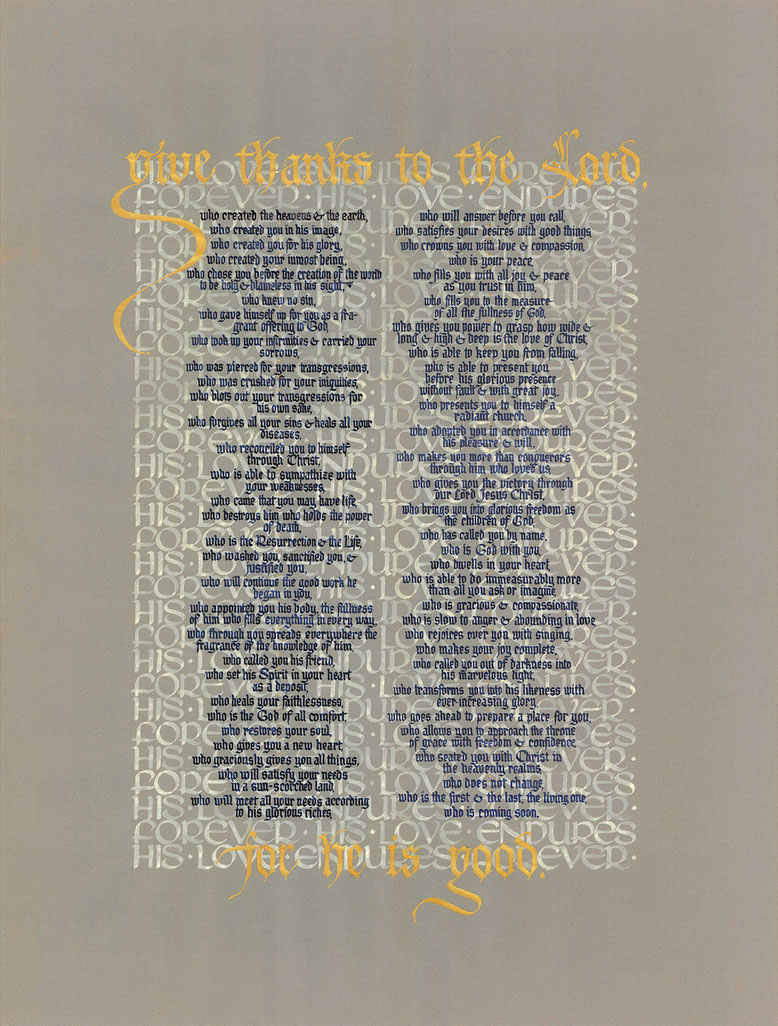 Another new piece draws from Romans, I Corinthians, Ephesians, and two hymns--O Love, How Deep, How Broad, How High and O, the Deep, Deep Love of Jesus--and has the obvious theme of love.  I (and you) need look no further for that extra special wedding present!
And for an acquaintance's birthday (commissioned by his wife)...