Yams, onions, rosemary, sea salt, & avocado oil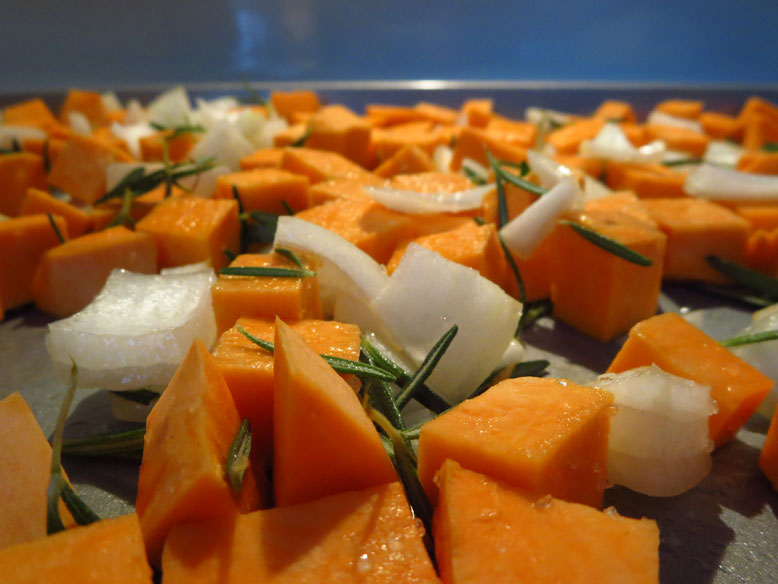 Our inspiration for this deliciousness came from two sources...a salad my sister and a Parisian friend of hers made based on these roasted ingredients, and a seasonal pizza we ordered at The Fridge here in Lancaster. Either meal starts with setting the oven at 400°F, cubing a large yam or sweet potato, dicing a large sweet onion (pretty chunky, not too small), throwing in 2-3 long sprigs' worth of fresh rosemary stripped from the stem into individual leaves or small clusters of leaves, a generous amount of coarse sea salt, and a generous drizzle of avocado oil all tossed together on a large cookie tray. You could certainly use olive oil or canola oil, since that's probably what you already have on hand, but avocado oil is supposed to do better at high temps. The oven will be hot by the time you've finished with all your cutting and chopping, so put the tray in the oven for 30 minutes, and set a timer for 10 minute increments to remind you to stir things up a bit for an even roast. Let cool before proceeding with the salad option. The pizza can be finished with hot, warm, or cool veggies.
pizza | dough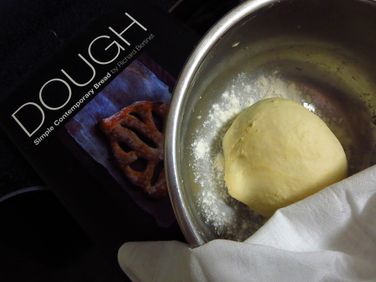 We've been making our pizza crust from a cookbook entitled Dough and are happy with that recipe for a thin crust. This time we did white, last week we did part whole wheat flour. Let rise once and preheat oven and a large pizza stone to 400-450°F. 
---
pizza | béchamel sauce
Béchamel is basically a white sauce with a touch of nutmeg. For our purposes, Peter has been doing roughly:
     2 Tbsp.  butter
     2 Tbsp.  flour
     1 cup     milk
     pinch of black pepper *
     pinch of cayenne *
     pinch of garlic powder *
     pinch of nutmeg *
     pinch of salt *
          * more can be added according to taste
In a hot saucepan, melt butter and incorporate flour, stirring the paste for a minute or two to cook (will bubble) but avoid browning. Add milk slowly, stirring vigorously to avoid lumps; some recipes say to add hot milk to avoid lumps. Bring to a boil, then simmer until flour is cooked and sauce is thickened (another 2-3 minutes). Remove from heat.
While preparing the béchamel, brown 1/3-1/2 lb. ground beef in a separate skillet. 
---
pizza | assembly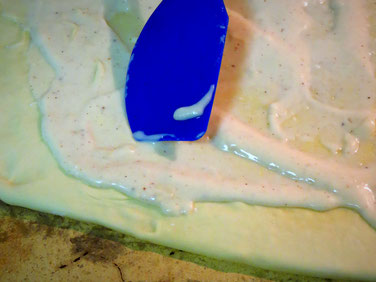 Roll or stretch dough to the size of your pizza stone, pull the HOT pizza stone from the oven, and gently lay dough on the stone. Spread béchamel to edges.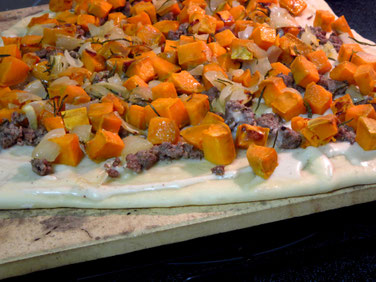 Add ground beef and roasted veggies as thickly as you like and as close to the edges as you like.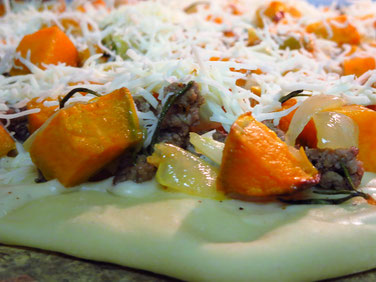 Sprinkle with a healthy dose of mozzarella cheese. (I'll leave it up to you, whether to take "healthy dose" figuratively or literally.)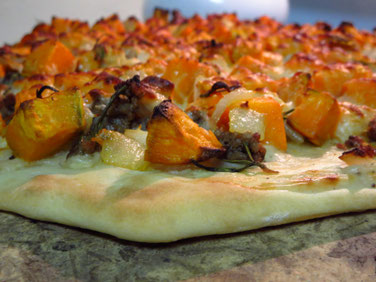 Bake until crust and cheese begin to brown (about 15-20 minutes) and serve immediately. Best accompanied by a bottle of birch beer, provided you live in a part of the country where such can be found. If you have pizza leftover, it is just as good the next day or two at room temperature or cold.
salad version
Tear or chop leaf lettuce (1/2 a head?) into a medium sized serving bowl a few minutes before you plan to eat.
Add cooled roasted veggies and gently mix.
Top with chopped walnuts (1/2 a cup?) and feta cheese (1 cup?) to taste. Mix if desired.
Drizzle with a generous dose of balsamic vinegar or a similar dressing. (We also tried a sweet onion dressing but weren't quite as happy with that.)
Serve as soon as possible before the lettuce wilts, though the flavors are still good the following day.