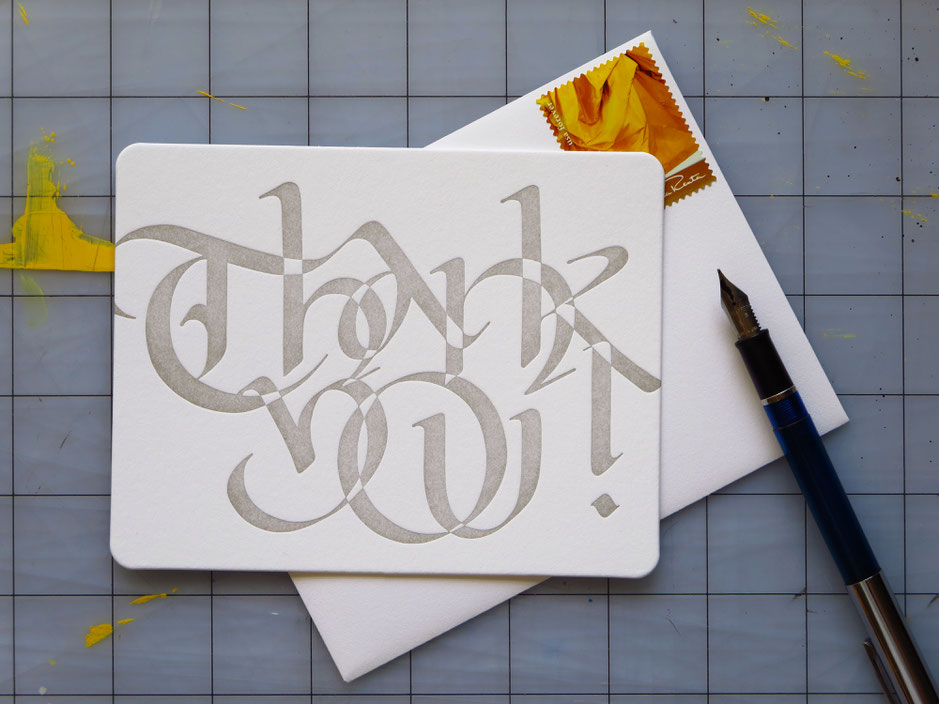 How have nearly three months passed since I last posted anything?! And how have exactly 11 months elapsed since our wedding?!
On that topic, thank you cards are finally going out to friends and family; and boxed sets of the remaining cards we had printed by Ty Pattison of The Happy Envelope in Knoxville, Tennessee, are soon to appear in my Etsy shop. (If you're going to go to all the work and expense of printing cards, you might as well print a pile of extras and either have thank you cards on hand for the rest of your life and every occasion...or recoup some wedding expenses and sell boxed sets. We may do a bit of both.)
The process began a LONG time ago...4 November 2013 to be exact. Peter had made his second trip down to visit me, and I managed a relatively prompt thank you card in gold gouache on cream paper. (Peter being a saver, I could check those details just now.) I liked how it turned out and dreamed even then of turning that first design into a set of note cards but ran into trouble when I looked into printing options. Gold foil was not only pricey but cheap looking. Gold ink was also pricey and didn't have much, if any, glint to it. Other color options didn't satisfy either.
Fast forward to Spring 2016, and I was again trying to find a good way to print the thank you cards, now with a wedding to plan and wedding showers imminent. Designing and printing our wedding invitations myself turned into a longer process than anticipated, and various family emergencies moved thank yous to the back burner again. However, within a month of our August wedding, Peter was asking about getting thank yous out. He was fully on board with the idea of designing and printing our own and agreed that we should do it right if we were going to do it at all, yet complications continued to delay our progress. 
Finally, by February or March of 2017 I had been in contact with two Knoxville printers about my design, ink choices, paper thicknesses, corner rounding, whether we could do the work ourselves, etc.; and on April 20th we were able to meet with Ty in person to finalize paper and ink, going with a gray neither Peter nor I had originally considered. Ty was quick with the printing and had everything ready for us May 1st, the day we were scheduled to leave town. After months of considering other options, the end result was just what we were looking for; and--believe it or not--we did a little jig down Jackson as we left The Happy Envelope. 
The cards are a postcard format (no fold) with 0.25" rounded corners and printed on Crane's Lettra Fluorescent White 220 lb. Duplex Cover in PMS 401 (gray). Crane envelopes to match. Boxed in sets of five in a Kraft paper box with window. For sale on Etsy.